The DermaQ™ is exactly what thousands of smart customers are using to "pearlize" their skin, so you would never dream that they too suffered from:
• 
Clogged pores
• 
Acne
• 
Excess oil
• 
Blackheads and whiteheads
• 
Dry, flaky skin
• 
Dull skin tone
• 
Uneven texture
• 
Polluted skin
ARE FACIALS, SALONS, AND SPA TREATMENTS COSTING YOU A FORTUNE?
You just can't get rid of those whiteheads and comedones with cleansing foams. And it's unnecessary to spend hundreds or even thousands of dollars on facials, salons, and painful peeling treatments that lead to inflamed or reddish skin.
Treat yourself to the deepest cleansing possible in the
comfort and privacy of your own home at a price that won't break the bank!
THE #1 WAY TO KEEP YOUR FACE LOOKING CLEAN AND FRESH!
ULTRASONIC DEEP CLEANSING
High frequency (30,000 Hz per second) ultrasonic oscillation technology is transmitted to the skin's surface delivering instantaneous pressure and vibration. It's able to penetrate skin 3-5mm, effectively removes blackheads, dead skin and dirt, allowing your skin to regain its clearness and cleanliness.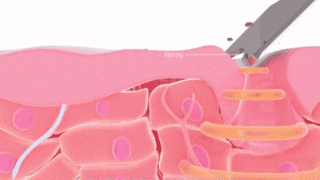 FIRMING AND LIFTING SKIN

Micro-current pulse technology can activate cell vitality, boost collagen regeneration, and help restore skin elasticity so that skin remains moisturized and firm. The device gently massages face and mobilizes subcutaneous muscles to help shape the facial contour.



HELPS SKIN TO ABSORB NUTRIENT 
High frequency vibration breaks down and refines larger molecules such as VC and collagen to help you massage your skin and easily absorb nutrients.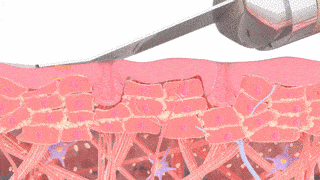 Do not use this device around eyes, injured skin, dermatitis caused by cosmetics, acne inflamed parts, or reshaping parts.

This device will have a low noise due to ultrasonic vibration, that is normal phenomenon, please feel free to use.

Please keep your hands dry when using this device, otherwise, the power supply may be short-circuited.

After use wipe the probe with dry cloth and disinfect it by alcohol.

Package contents: DermaQ™ / USB Cord / User Manual.
 We have
24/7
 Support Team. Please contact us if you need assistance.